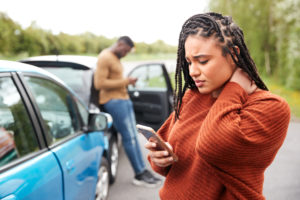 Have you been seriously injured in a car accident in Montgomery or elsewhere in Alabama that was someone else's fault? If so, the highly skilled and compassionate traffic collision lawyers at Stokes Stemle, LLC are ready to help you.
We understand how difficult the aftermath of a car accident can be for you and your family. You have the right under Alabama state law to demand fair compensation for your injuries. Our experienced Montgomery car accident lawyers will fight tirelessly to hold all negligent parties accountable and get you the maximum compensation for your losses.
At Stokes Stemle, LLC, our attorneys are always available to listen to your questions and concerns. We'll answer them promptly and support you while we diligently work to resolve your case. Our Montgomery personal injury attorneys work on a contingency fee basis, which means that you won't owe us a dime until you receive a financial settlement or judgment. Call Stokes Stemle, LLC today for free legal advice about your traffic collision.
Identifying what causes traffic collisions can help prevent them. No matter what caused your traffic collision, our car accident attorneys have the experience in Alabama courts to hold the responsible party accountable for their behavior. Read on to find out some of the leading causes of Alabama car crashes we see.
Speeding
Narrowing down the most common cause of car accidents in Alabama is difficult, but speeding is near the top. It can cause crashes and make accidents worse when they occur. A vehicle's speed is directly related to the force of its impact in a crash, which typically affects the extent of injuries. For that reason, speeding greatly increases the risk of injury or death.
Remember to obey posted speed limits and observe the speed limit. You should adjust your speed to the conditions, regardless of what the speed limit sign says. Never drive faster than is safe for current weather.
Unfortunately, not everyone abides by the law, and accidents happen as a result of speeding. If you've been injured by a driver who was speeding in Alabama, contact the attorneys at Stokes Stemle, LLC as soon as possible.
Distracted Driving
A leading common cause of car accidents is distracted driving. Distracted driving consists of any activity that takes a driver's attention away from the primary task of driving.
Distracted driving may include:
Talking on phone
Texting
Drowsy driving
Rubbernecking
Eating
Drinking
Looking at scenery
Engaging with passengers or children
Adjusting the radio
Reading books, maps, or other documents
Using a GPS
Applying makeup or shaving
Combing hair
Engaging in any of the activities greatly increase a driver's chance of causing a car accident. It's also negligence and can make a driver liable for a crash they cause.
Driving Under the Influence of Alcohol or Drugs
Alcohol, illegal drugs, and certain prescription and over-the-counter drugs can reduce drivers' coordination and concentration behind the wheel. As too many Alabamians know, accidents caused by intoxicated drivers can be devastating. Research indicates that car accident severity increases with higher alcohol consumption.
Unfortunately, drunk driving is all too common in Alabama. Crashes involving drunk drivers result in fatalities 6.9 times more often than other types of motor vehicle accidents, according to Drive Safe Alabama. Every year, almost 50% of all fatal crashes in Alabama involve drivers who have consumed alcohol.
Common types of crashes involving drivers under the influence of drugs or alcohol include:
Head-On Collisions – Because of their impaired judgment and perception, drunk drivers may drive on the wrong side of the road or against traffic on a one-way street, causing devastating head-on collisions. Intoxicated drivers may also swerve, crossing over the line, and collide with oncoming traffic.
Rollover Accidents – When a motorist is drunk or affected by drugs, they may lose control during a turn, swerve too sharply, or hit curbs and other objects. Rollover accidents can lead to multi-car crashes and severe injuries.
Sideswipe Accidents – When intoxicated drivers swerve or drift into adjacent lanes of traffic, they can sideswipe other vehicles, especially if they are traveling at a high rate of speed.
Rear-End Collisions – If an intoxicated driver loses focus, they may fail to brake and crash into the car in front of them. Some drunk drivers also engage in dangerous and negligent driving behaviors like speeding and tailgating, which can lead to grave injuries and fatalities.
Failure to Obey Traffic Laws
Traffic controls must be understood and obeyed by all motorists to prevent accidents, especially at dangerous intersections. In Alabama, traffic control devices, like signs, signals, and markings, are used to regulate the flow of traffic and warn motorists of hazards. The purpose of these devices is to improve safety and promote and maintain the orderly movement of vehicles on the road.
Unfortunately, each year, accidents happen because drivers fail to obey traffic controls. Common examples include failing to yield, failing to stop at a stop sign, and running a red light.
Tailgating
Tailgating typically happens when the trailing driver is impatient to get to their destination as quickly as possible. When there's a short distance between two vehicles' bumpers, it's next to impossible to stop in time if the leading driver brakes suddenly.
Tailgating drivers tend to exhibit dangerous and negligent driving habits, including speeding, quick lane changes, and an overall disregard for the rules of the road.
Common causes of tailgating in Alabama include:
An aggressive driver exhibiting "road rage"
An impatient driver who attempts to pass the car they're tailgating
A careless driver who is unaware of how closely they're following the vehicle in front of them
Driving While Fatigued
Drowsy drivers are one of the top causes of road accidents on Alabama roads. Accidents caused by drowsy drivers are among the worst because these drivers may fail to take any evasive actions such as swerving or braking.
Many drowsy driving accidents involve just one vehicle, but drowsy driving can also lead to severe multi-car crashes. A fatigued driver might doze at the wheel and fail to brake when approaching traffic. Sleepy drivers may also fall asleep and cross the center line into oncoming traffic.
Drowsing driving is a result of drivers operating their automobile when they're too fatigued to do so safely.
There are numerous causes for this type of behavior, including:
Inadequate or interrupted sleep
Sleep disorders, such as chronic insomnia and insomnia
Traveling for too long without taking breaks
Changing work schedules, limiting a person's amount of sleep
Use of sleep aids and other "downers" prior to driving
Consuming drugs and alcohol before driving
Drivers who are fatigued for any of these or other reasons will have slower reaction times, short-term memory loss, and may even drive aggressively and recklessly. All too often, drivers suffering from a lack of sleep cause an accident.
Reckless Driving
Reckless driving can encompass many different types of poor driving behaviors. Examples include failing to yield, ignoring traffic signals, unsafe lane changes, tailgating, and failing to use signals. Reckless drivers put all people on the road at risk for a potentially catastrophic car accident.
Common examples of reckless driving include:
Traveling more than 25 mph over the posted speed limit
Tailgating
Weaving through traffic
Illegal passing
Ignoring traffic signs and signals
Driving a vehicle with faulty brakes or other defects
Racing
Unsafe Lane Changes
Unsafe lane changes are a common occurrence on Alabama roads, and they're one of the most common causes of traffic accidents. When a driver makes unsafe lane changes, it not only forces the vehicles directly around them to adjust quickly, but it can also lead to catastrophic effects. For instance, when a driver changes lanes without signaling, it can cause vehicles to swerve to avoid one another. This can lead to collisions.
An unsafe lane change can happen when a driver:
Begins signaling after entering a different lane
Changes lanes without signaling
Fails to properly check their blind spots for other vehicles
Operates their vehicle in the middle of two lanes
Driving Too Fast for Conditions
Drivers must pay close attention to the conditions on the road at all times. They should then adjust their speed and driving behaviors accordingly. If a motorist fails to drive carefully in the rain, ice, fog, snow, wind, and other potentially dangerous conditions, preventable accidents can occur.
Driving too fast for conditions is a form of reckless driving. If another driver's recklessness was the cause of your car accident and resulting injuries, an attorney can help you hold them responsible for it in an insurance claim or lawsuit.
Contact a Montgomery, AL Car Accident Lawyer Today
Allow the Alabama personal injury lawyers at Stokes Stemle, LLC to fight for financial compensation to cover all your past, present, and future losses. One of our Montgomery accident lawyers will negotiate for your right to a full and fair settlement, and we won't hesitate to take your case to trial if the at-fault party doesn't agree to one.
Whether you were hurt by the number one cause of car accidents or suffered a rare type of crash, we can help. The car accident injury lawyers at Stokes Stemle, LLC have the resources and skills necessary to handle complex personal injury matters like yours. Your case will receive the individualized attention you need. Call us today for a free, no-obligation consultation.