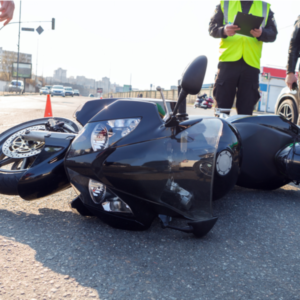 Were you injured or did you lose a loved one in a motorcycle crash? Did the other motorist fail to stop, render aid, and remain at the scene? If so, an experienced motorcycle accident lawyer can still help you seek the compensation and justice that you deserve.
Leaving the scene of an accident without stopping to render aid is illegal in Alabama. Nonetheless, the number of fatalities caused by hit-and-run crashes are at an all-time high, according to a study by the AAA Foundation for Traffic Safety. In the U.S., there were an estimated 737,100 hit-and-run crashes in a single recent year. This translates to a hit-and-run about every 43 seconds.
If you were injured in a hit-and-run motorcycle accident, Stokes Stemle, LLC is here to help. Give us a call or contact us online to learn more about your legal options during a free consultation.
Compensation Options After a Hit-and-Run Accident
If you are a victim of a hit-and-run motorcycle accident, you might be wondering about how you can seek compensation for the injuries you suffered, especially if you do not know the identity of the driver who caused the crash. There may be several options available to you.
The first option you may have for hit-and-run compensation is to file an uninsured motorist (UM) claim with your own insurance. Uninsured motorist coverage covers losses you suffer when you are injured in an accident caused by another driver who does not have any insurance. Alabama law requires that all insurance carriers offer UM coverage to consumers when they purchase auto insurance. The statutory minimum for UM coverage in Alabama is $25,000. Unless you waived this insurance, you should have it.
If you have UM coverage, you file a claim with your own insurance company for the medical expenses and lost wages you suffered because of the collision. Until proven otherwise, a hit-and-run driver is presumed to be an uninsured motorist, so your UM coverage usually kicks in.
You may have other forms of insurance that you can turn to, as well. For example, you may have collision insurance or personal injury protection (PIP) insurance that you can make a claim against. These types of insurance do not consider who was at fault for the accident when paying compensation for a claim.
You can also cooperate with the police and try to locate the driver who was responsible for your hit-and-run motorcycle accident. If you are able to locate the driver, you may be able to file a claim against their insurance coverage, if any. If the driver did not have insurance, you may be able to file a lawsuit against them.  A hit-and-run accident attorney can explain your legal options and devise a legal strategy to help you recover compensation for your motorcycle hit-and-run accident.
Common Injuries in Hit-and-Run Motorcycle Crashes
Hit-and-run motorcycle accidents can result in serious injuries, including:
Fractures
Severe road rash
Neck injuries
Burns
Internal injuries
While any motorcycle accident can potentially be serious or even fatal, motorcycle hit-and-run accidents may be particularly dangerous because help is often delayed. If no one is around to help, the motorcyclist may be left on the roadway and may be at risk of getting run over or hurt in a subsequent collision.
Hit-and-Run Laws in Alabama
Drivers may run after leaving the scene for various reasons. They may be scared or confused, especially if they know they caused the accident. However, in many cases, drivers may flee the scene of an accident because they know that they were already doing something illegal, such as:
Texting and driving
Driving without insurance
Driving drunk
Driving under the influence of drugs
Regardless of the reason, hitting a motorcyclist and then fleeing the scene is illegal in Alabama. Any driver who is involved in a motorcycle accident that results in injury, death, or damage to a vehicle must stop, render reasonable assistance, and exchange information with the other driver.
Drivers who hit-and-run are subject to criminal as well as civil penalties. If the accident the at-fault driver fled from caused injury or death to another person, the driver can be charged with a Class C felony in Alabama. The maximum penalty for this offense is 10 years imprisonment and a $15,000 fine.
What Happens If There Was No Contact Between Vehicles
In some motorcycle accidents, there may not be any contact between the vehicles. The motorcyclist may have had to slam on their brakes or swerve after another vehicle dangerously moved into their lane, for example. The motorcyclist may have avoided contact with the vehicle, but they may have been ejected from the motorcycle or struck another object.
However, even if there was no contact between the hit-and-run vehicle and the motorcycle, it may still be possible to establish that the other driver was responsible for the accident because they acted negligently.
In these accidents, it is critical to gather information to substantiate your claim. There may be evidence of how the accident occurred, such as:
Eyewitness testimony
Camera footage from a traffic cam
Dash-cam footage
Surveillance footage
Accident reconstruction report
A hit-and-run accident attorney can evaluate the circumstances surrounding the accident and conduct an investigation to identify all potentially liable parties.
What to Do After a Hit-and-Run Motorcycle Crash
After a hit-and-run motorcycle accident, it is important to take immediate steps to protect your health and your potential legal claim. Report the accident to law enforcement and cooperate with any criminal investigation. Seek immediate medical treatment.
In the weeks and months following the accident, take steps to protect your claim, including:
Follow up with medical treatment. Attend all follow-up appointments with your doctor and other health care professionals. Keep detailed records of your doctor's notes and your treatment.
Make a claim with your insurance company. Begin the process by making a claim with your own insurance company. If police are later able to identify the at-fault driver, you may be able to make other claims. However, making an initial claim with your own insurance company can help you establish your right to compensation.
Retain documents related to the accident. You will likely accumulate many documents related to the accident, such as property damage reports, medical records, medical bills, pay stubs that show lost wages, and others. Keep any documents or other pieces of evidence that help establish how the accident happened and how you have suffered because of the accident. This information helps to establish the compensation you are entitled to. Provide this information to your personal injury lawyer.
Keep a pain journal. In addition to reimbursement for your lost wages, medical expenses, towing expenses, and vehicle repairs, you may also be entitled to compensation for the pain and suffering you endured because of the collision. A detailed pain journal can help to illustrate the extent of your pain and suffering caused by your accident. Keeping a written record can prevent you from forgetting key details.
Be careful what you say or post. From the moment of the accident, it is important to carefully consider anything you say or post online. Insurance adjusters and defense lawyers may be monitoring this information. Do not admit fault to the law enforcement officer or anyone else. Provide only factual information to the responding officer and avoid speculating on how the accident happened. Do not agree to provide a recorded statement to the insurance company unless your personal injury lawyer has advised you to do so. Increase the privacy settings on your social media accounts and avoid talking about the accident online or offline. It is likely best to stay off social media altogether until your claim is concluded. Posts and pictures could be taken out of context, twisted, and used to undermine your claim.
Contact an experienced motorcycle hit-and-run accident attorney. A lawyer can advise you about your rights, handle communications with the insurance company, and protect your rights while you focus on your recovery.
How Our Motorcycle Accident Attorneys Can Help After a Hit-and-Run
The compassionate motorcycle hit-and-run accident attorneys at Stokes Stemle, LLC can help you determine your next steps after you were hit and the driver fled from the scene. We can create a legal strategy that will enable us to seek the maximum compensation you deserve. We'll manage communications and negotiations with the insurance company in pursuit of a fair settlement. If it is not possible to secure an acceptable settlement, we can discuss whether it makes sense to file a lawsuit and litigate your case.
We know that you are going through enough and do not need to deal with the added hassle of dealing with the insurance company and the courts. The motorcycle accident lawyers at Stokes Stemle, LLC are ready to help you pursue the maximum compensation available.
For help with your hit-and-run motorcycle accident claim, call us or contact us online today.