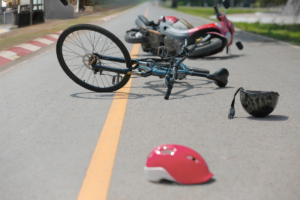 If you suffered injuries from a bicycle accident in Opelika, Alabama, you might feel overwhelmed and uncertain about what to do next. Bicycle accidents can cause severe injuries that often have life-altering consequences and require costly treatment. If someone else was to blame for the accident, knowing you have the right to seek compensation from them is crucial.
At Stokes Stemle, LLC, our experienced Opelika bicycle accident lawyers can help you navigate the legal process and demand the money you deserve. With three offices throughout Alabama, including one right here in Opelika, we are conveniently located and able to meet whenever works for you. Our goal is to get you the justice you deserve. We will rest at nothing in the pursuit of that goal.
Were you or a loved one hurt in a bike accident in Opelika? Then contact Stokes Stemle, LLC today for a free case review with a cyclist lawyer in Opelika.
State Laws Protecting Cyclists in Accidents
As cyclists share the road with cars, trucks, and other vehicles, they are often at risk of being hit by those vehicles. The state legislature has passed laws to protect cyclists from these dangers. In Alabama, cyclists are explicitly given the same rights and duties as motorists, including:
Yielding to pedestrians

Riding in the same direction as the traffic

Signaling turns

Using proper lighting when riding at night
The state also has specific laws protecting cyclists from accidents. For example, drivers of motor vehicles must keep a safe distance when passing a cyclist on the road and always give them the right-of-way when entering intersections or merging into traffic.
Injured in a Bicycle Accident Near Opelika? Here Are Your Legal Options
If you have been injured in a bicycle accident in Opelika, understanding your legal options is essential to your well-being. Depending on the circumstances of the accident, you can file a claim against the at-fault driver. After a cycling injury caused by another driver's negligence, you may be eligible for compensation for the following:
Medical expenses

Lost wages from missed time at work

Reduced future income

Pain and suffering

Emotional distress

Loss of quality of life
It is best to contact an experienced Opelika bike accident attorney as soon as possible to discuss your legal options. Your lawyer will evaluate your case and help you seek fair compensation for the injuries sustained due to the other party's negligence.
Options for Compensation If You Were in a Hit-and-Run Bike Accident
Being in a hit-and-run bicycle accident can be a traumatic experience. There are specific steps that you should take immediately following the incident:
Try to get the license plate number of the car that hit you.

Take note of other details, such as the make and model of the vehicle.

Look for any identifying features of the car or the driver. 

Seek medical help right away, even if you feel fine.

Contact the police to report the accident and give them your version of the events.

Contact a bike accident attorney for help.
You could still have options even if you were involved in a hit-and-run bicycle accident or if the person who hit you is uninsured or underinsured. In addition, if the driver who caused the accident is found, you may be able to pursue a claim against them for compensation.
Underinsured/uninsured motorist protection (UM/UIM) in your auto insurance policy should also provide coverage if the at-fault motorist cannot be found. This coverage protects motorists and cyclists when injured by a negligent driver who fled the scene, has no insurance, or does not have enough insurance to cover their damages.
While UM/UIM insurance is optional in Alabama, it is provided in all policies unless the policyholder rejects it in writing. If you accept it and have auto insurance, you likely have UM/UIM coverage.
Why Hiring an Opelika Bicycle Accident Lawyer Is Essential
After being injured in a bicycle accident, having the proper legal representation to protect your rights is crucial to pursuing compensation. An experienced Opelika bicycle accident lawyer can:
Investigate the crash to determine who was at fault for the accident

Fight for fair compensation from the responsible party

Use state laws and regulations related to cycling to maximize the compensation you pursue

H

andle all communications on your behalf

Negotiate with insurers for a fair settlement for your injuries and other losses
Insurance companies will do whatever they can to protect their bottom lines, denying and minimizing claims whenever possible. However, without a tough negotiator in your corner, you could walk away without the money you need to rebuild your life. Ultimately, an experienced bicycle accident lawyer in Opelika can provide you with valuable legal support and advocacy during this stressful time.
Contact Our Cyclist Lawyers in Opelika, AL
If you've been in a bicycle accident, having an experienced cyclist lawyer on your side is essential. At Stokes Stemle, LLC, our accident attorneys are well-versed in the laws and regulations protecting cyclists and the unique challenges cyclists face after collisions. We are ready to fight hard for the justice you deserve.
Contact us today for a free consultation with a bicycle accident lawyer in Opelika, AL. We look forward to meeting you, hearing your story, and explaining your rights at no cost or obligation.