Roundup Linked to Several Types of Cancer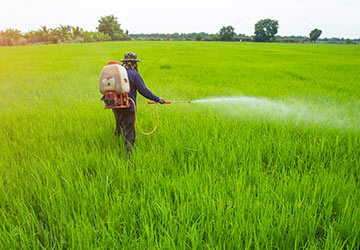 Cancer linked to Roundup® Include:
Non-Hodgkin Lymphoma
B Cell or T Cell Non-Hodgkin Lymphoma
Follicular Lymphoma
Chronic Lymphotic Leukemia
Other Non-Hodgkin Lymphoma Cancer Types
Roundup® / Glyphosate
Roundup® is a popular weedkiller used by individuals and giant corporations for commercial purposes. Herbicide was developed by Monsanto Company and introduced to the consumer market in 1974. At present, Roundup® is the best-selling herbicide in the world. However, individuals who have had prolonged usage of and exposure to Roundup® have filed thousands of lawsuits against Monsanto, claiming that their exposure to the active ingredient in Roundup®, glyphosate, is linked to their development of a specific type of cancer called Non-Hodgkin Lymphoma (NHL).
Common Occupations with Roundup® Exposure
Farm and Agricultural
Garden and Nursery
Grounds Maintenance
Golf Course Crews
Landscapers
Sports and Turf Management
Lawn Care
Cancer Linked to Repeated Exposure to Roundup®
Breathing Roundup® in while spraying, mixing, etc.
Contact with Roundup® on your skin.
Ingesting Roundup® by drinking water or eating food that is contaminated.