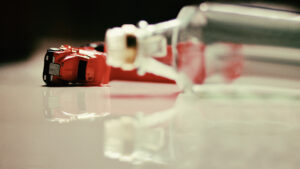 Any driver who drinks alcohol before getting behind the wheel puts themselves and everyone around them at risk, but the risks of drunk driving are even worse with drivers of large trucks. Semi-trucks and similar vehicles are 10 to 20 times heavier than passenger vehicles and sit higher off the road. This means they can cause much more severe injuries in a crash.
If you've been hurt in a truck accident with a drunk driver in Alabama, the attorneys at Stokes Stemle, LLC can help you seek maximum compensation for your injuries. Our Montgomery drunk driving truck accident lawyers work exclusively on personal injury cases, so we have the knowledge and experience needed to build the best possible case on your behalf.
We know that truck accident injuries can be extremely traumatic and expensive, so we will do everything in our power to help you recover personally and financially. Contact us today for a free initial consultation to learn more about how we can help you with your claim.
How Common Are Drunk Driving Truck Accidents?
There are many more cars than large trucks on the road, both in Alabama and across the country. Still, drunk driving accidents involving truck drivers happen with alarming frequency.
The Alabama Department of Transportation reports that impaired drivers were the primary cause of 125 truck crashes statewide in one recent year. At the national level, the Federal Motor Carrier Safety Administration (FMCSA) reports nearly 5,000 truck drivers were involved in fatal accidents in a recent year. 3.1 percent of them had a blood-alcohol concentration (BAC) level of 0.01 percent or higher, while 2 percent had a BAC level of 0.08 percent or higher, which is the legal limit for all drivers.
What Should I Do After Being Hit by a Drunk Truck Driver?
After a truck accident, the first thing you should do is to call 911 and bring emergency responders to the scene, as you or someone else may need immediate medical care. Once the authorities are on their way, here's what you need to do next:
Get the name of the truck driver, along with their personal auto insurance information, the information for their company's insurance policy, and the name of their employer.

Take as many photos of the crash as you can. In particular, try to get pictures of your injuries, the damage to your vehicle and the truck, and anything in the vicinity that may have contributed to the accident.

Look for any potential eyewitnesses. If you see any, try to get their names and contact information right away.

See a doctor as soon as possible. You may have internal injuries that have not been diagnosed and need to be treated. Your doctor can also start the process of documenting your injuries.

Don't say anything to any insurance companies, even your own. The insurance companies will likely want to force you into a quick settlement, which could mean you won't get the money you need to cover all your expenses.

Stay off of social media. Don't say anything about the accident or post any pictures, as this information could potentially be found by insurance companies and used against you.

Hire an Alabama truck accident lawyer right away. Your attorney can investigate the case, handle the insurance companies, and start building your case for compensation as you recover from your injuries.
What's the Blood Alcohol Content Limit for Truck Drivers?
While the legal limit for most drivers in Alabama is a BAC of 0.08 percent, stricter rules exist for truck drivers. This makes sense, as large trucks can cause much greater injuries in an accident than smaller vehicles.
The FMCSA, the national agency that regulates the trucking industry, sets the legal BAC limit for truck drivers at 0.04 percent. This is also the legal blood alcohol limit for truck drivers under Section 32-5A-191 of the Alabama Code. A truck driver recorded with a BAC of 0.04 percent or higher after an accident can be stripped of their Commercial Driver's License for breaking these laws, in addition to facing other possible penalties.
How to Prove the Truck Driver Was Drunk
One of the primary jobs of a truck accident attorney in cases like these is to find evidence showing the truck driver was impaired. Some of the evidence commonly used in drunk driving truck accident cases includes the following:
Police accident reports

Chemical sobriety tests or the truck driver's medical records

Eyewitness testimony of the crash and the driver's activities before the crash

Photos and videos from the scene of the accident

Records from the truck driver's employer

The truck driver's prior driving record
Liability in Alabama Drunk Driving Truck Accidents
Figuring out who's liable for a drunk driving truck accident in Alabama can be challenging. First off, there could potentially be more than one liable party.  For example, if the truck driver's employer knew the driver had a history of substance abuse, they could be partly responsible for not monitoring the driver properly. Bars, restaurants, and liquor stores can also be held partly liable for drunk driving accidents in certain circumstances.
Injured by a Drunk Truck Driver? Contact Our Truck Accident Attorneys in Montgomery, AL Now

Being involved in an accident with a drunk truck driver is a traumatic ordeal, but an experienced truck accident lawyer can help you find the best way forward. The Montgomery, AL truck accident attorneys at Stokes Stemle, LLC want to help however we can. To learn more, contact our office for a free initial consultation.