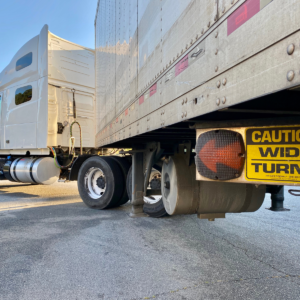 When most people picture a truck accident, they tend to think of tire blowouts on 18-wheelers and high-speed collisions on the highway. However, many truck accidents occur far from the highway, at slow speeds in familiar urban or suburban areas.
Large commercial trucks have to make wide turns that accommodate their length and bulk, even when navigating through city intersections or side streets. Truck drivers who are careless or reckless in executing these maneuvers may cause catastrophic wide turn accidents and serious injuries, even when they are driving slowly.
If you have been involved in an Alabama wide turn truck accident, you likely have questions about how you'll recover and what you should do next. Contact the Alabama truck accident lawyers at Stokes Stemle, LLC, now for your free initial consultation with our team. We are ready to review your situation and set out your best options for going forward.
What Is a Wide Turn Truck Accident?
Commercial trucks are typically several times larger than an average passenger car or light pickup, so as a result, they have much wider turning radiuses and need a lot more space to maneuver around curves. Big rigs like 18-wheelers and tractor-trailers are also usually segmented, so their tractors often need to make exaggerated arcs to ensure the trailers in tow have enough room to follow in a safe manner.
When truck drivers are negligent as they navigate through these wider turns, wide turn truck accidents can happen. Most wide turn truck accidents occur as a result of narrower right-hand turn maneuvers, though many of the same issues can cause wide left-hand turn accidents as well.
Wide right-hand turn accidents typically happen in one of three ways:
A truck making a wide right turn swings too far to the left to initiate their turn and accidentally collides with other vehicles on its left-hand side.
A truck making a wide right turn does not swing wide enough before turning, which causes the truck to go off-road, spill cargo, or even roll over entirely.
A truck making a wide right turn at an intersection with two side-by-side right-hand turning lanes swerves too far into the neighboring lane and collides with or crushes vehicles driving within it.
To safely navigate a wide right-hand turn, the Federal Motor Carrier Safety Administration (FMCSA) recommends that truck drivers travel straight through an intersection to the farthest available lane of the road they wish to turn onto, then veer rightward into the nearest available lane. This typically provides semi drivers with enough room to maneuver while preventing them from swinging wide into other vehicles that are traveling straight through intersections or making their own turns alongside large trucks.
Truck drivers who neglect to follow these guidelines and cause serious wide turn collisions may be held responsible for resulting damage and injuries. An experienced Montgomery truck accident attorney can help you determine whether you could be eligible to recover compensation from your wide turn truck accident case.
Common Causes of Wide Turn Semi-Truck Accidents
Maneuvering something as large and heavy as a semi-truck is complicated and can be dangerous when not done correctly. There are a variety of potential causes for any type of accident, but in the case of wide turn trucking accidents, the following tend to be seen most commonly:
Intoxicated drivers – Truck operators who are drunk, high on illegal drugs, or even intoxicated by prescription or over-the-counter medications cannot effectively gauge the speed and distance needed to safely navigate through wide turns.
Distracted drivers – Truckers who are distracted by texts, phone calls, videos, or even job-related devices like GPS screens or electronic logging systems may not notice traffic signals, warning signs, or nearby drivers as they make wide turns.
Fatigued drivers – Commercial drivers often work through long shifts and demanding schedules, so fatigue is a common problem. Operators who are drowsy behind the wheel can and do cause wide turn accidents.
Driver inexperience and error – Drivers who are inexperienced, insufficiently qualified, or simply in error may undershoot or overshoot their turns, take turns too quickly or sharply, or even make illegal reverse maneuvers to complete turns.
Failure to signal turns – The FMCSA manual for commercial drivers urges truck operators to signal their turns early and continuously, so that nearby motorists know what to expect. Operators who fail to signal their turns may cause wide turn accidents if other drivers do not have the opportunity to respond appropriately.
Failure to yield the right-of-way – Truck drivers who fail to yield the proper right-of-way to other drivers before they make wide turns commonly cause accidents. Car drivers who do have the right-of-way may be struck in head-on collisions, side-impact collisions, or even get caught in underride accidents.
Failure to check blind spots – Large commercial trucks have many blind spots, and drivers who fail to adequately check them before making wide right turns sometimes run straight into surrounding traffic.
Speeding or aggressive driving – Truck drivers who speed, run red lights, or otherwise drive aggressively are far more likely to cause wide turn accidents. Taking wide turns too quickly while speeding may even cause trucks to roll over.
Defective truck equipment or components – In some cases, even safe truck drivers may cause wide turn accidents when their truck's equipment or components fail. Brake failures and tire blowouts are both possible causes of wide turn truck accidents.
Recovering Damages in a Wide Turn Tractor-Trailer Accident
If you were involved in a wide turn tractor-trailer accident, chances are you sustained fairly serious vehicle damage and personal injury. You may be wondering how you'll begin to pay for all of your subsequent expenses, especially if you're severely hurt and can't work. An Alabama truck accident attorney can help you file a wide turn accident claim to recover compensation for personal losses such as:
Hospital and ambulance bills related to initial treatment of injuries
Projected future costs of continuing medical treatment and therapy
Accessibility-related costs such as caregiving or transportation expenses
Costs of repairs to vehicles or other personal property damaged in the accident
Lost income, if your injuries prevent you from returning to work
Reduced earning capacity, if your injuries cause permanent disability and prevent you from returning to your usual work
Pain, suffering, emotional distress, and mental anguish
Permanent disability and disfigurement
Loss of quality or enjoyment of life
Loss of companionship, consortium, support, or future inheritance, for loved ones
Punitive damages, which are intended to punish at-fault drivers and are usually only awarded in cases of extreme negligence
What Should I Do If I Was Injured in a Wide Right Turn Truck Accident?
If you were injured in a Montgomery wide turn truck accident, it's important to act as quickly as possible to protect your rights and preserve your ability to recover compensation. To the extent that you are able after a wide turn accident, the legal team at Stokes Stemle, LLC, recommends:
Pulling off to the side of the road, out of the flow of traffic, to prevent further collisions or injuries
Checking yourself and any other vehicle occupants for injuries and calling 911 immediately if any serious trauma is present
Seeking emergency medical attention if you are severely injured
Exchanging contact and insurance information with the truck driver and anyone else involved in the crash
Identifying any eyewitnesses and requesting their contact information and statements as well
Contacting the local police to notify them of the accident and ensure they have the opportunity to create an official accident report, which could be useful evidence in your case later on
Taking photographs of the accident scene, any damage to your vehicle, and any noticeable injuries to yourself or other occupants of your vehicle
Visiting your doctor's office for a full physical examination, whether or not you feel pain or notice any injuries, to check for "invisible" injuries like concussions or whiplash
Following all of your doctor's prescribed treatment plans to ensure you recover as quickly as possible and demonstrate to any interested parties that you are taking your injuries seriously
Documenting all evidence of your accident-related expenses and losses, including your medical bills, repair invoices, and previous pay stubs
Keeping a "pain journal," in which you record the intangible effects of your accident-related injuries, such as your overall level of physical pain and your ongoing emotional or mental well-being.
Contacting an experienced Montgomery wide turn truck accident attorney to schedule your free consultation
Contact a Truck Accident Lawyer Today
No matter how minor or serious your wide turn truck collision, dealing with the aftermath of any accident is an exercise in frustration. Let the dedicated lawyers of Stokes Stemle, LLC, relieve that frustration for you.
Our initial consultations are always free, and unless we recover compensation for your case, you'll never owe us a dime. Contact our relentless and compassionate team today by calling us or filling out our online intake form.