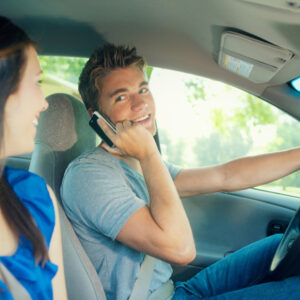 Learning to drive is a privilege and rite of passage for teenagers. But unfortunately, not all teenage drivers take the responsibilities of driving as seriously as they should. For various reasons — immaturity, inexperience, a greater tendency towards risky behavior — teen drivers are much more likely to be involved in car accidents than other drivers. These accidents can result in severe injuries and significant financial repercussions for everyone involved.
Were you hurt in an accident with a teenage driver? You may be wondering if you're entitled to compensation for your losses. Your best bet is to talk to one of the Alabama car accident attorneys at Stokes Stemle, LLC. Our law firm focuses exclusively on auto accident and personal injury claims, putting experience on our side — and yours.
Let our Montgomery car accident lawyers review your case and explain your legal options. Get a free initial consultation by calling or contacting us online today.
Teen Driver Car Accident Statistics
Here are a few sobering statistics about teenage drivers and car accidents:
According to the Centers for Disease Control and Prevention (CDC), motor vehicle accidents are the leading cause of death for U.S. teens.
According to a report from the Alabama Department of Transportation, 28,545 drivers aged 15-19 were involved in car accidents in Alabama in a single recent year. Of those crashes, 97 included at least one fatality.
The most current data from the National Highway Traffic Safety Administration (NHTSA) shows that 2,121 people nationwide died in crashes involving at least one driver aged 15-18 in a recent year. Around 45 percent of the teen drivers who died were not wearing a seatbelt.
Dialing a phone increases a teen's risk of crashing by six times. Texting increases the chances of a teen driving accident by 23 times.
According to NHTSA, teens are 2.5 times more likely to engage in risky driving behaviors if they have a passenger in the car.
Speed is a contributing factor in 28 percent of fatal teen driving accidents.
The CDC reports that teens have a higher risk of being in a drunk driving crash than any other age group, even with the same blood alcohol concentration (BAC) as an older driver or a BAC under the legal limit of 0.08.
Drivers aged 17-23 have the highest risk of being involved in drowsy driving accidents.
What Causes Teenage Car Accidents?
Overall, teen drivers have a higher rate of fatal crashes than any other age group. Several factors often play a role in these wrecks, such as:
Inexperience: In Alabama, a new driver can get a learner's permit at age 15 and a restricted license at age 16. Anyone 18 or older who passes a road test and pays the necessary fees can obtain an unrestricted license, no matter how little driving experience they've had. Inexperienced drivers are more likely to be involved in car accidents because they've had less time behind the wheel and exposure to various traffic scenarios.
Lack of knowledge: Depending on what sort of driving education they received, some teen drivers simply don't know every traffic regulation they need to follow. While ignorance does not excuse their actions if they cause an accident, it partly explains why they may make driving errors.
Immaturity: Research has shown that teenagers' brains are still developing well into their high school and college years, making them more prone to rash decision-making and risky behavior. Teenagers are also impulsive and prone to thrill-seeking behavior. Together, all these traits mean teenage drivers are more likely to engage in dangerous driving behaviors, such as speeding, making aggressive lane changes, following too closely, stopping suddenly, and running red lights or stop signs.
Distracted driving: Teen drivers are disproportionately involved in distracted driving crashes nationwide. In particular, teens are more likely to use the phone while driving, such as making a call and texting while driving.  Other distractions include eating or drinking while driving, talking to passengers, adjusting the music in the vehicle, and using a navigation device. Any activity that diverts a teen's attention from the road reduces their ability to respond effectively when emergencies arise.
Driving while intoxicated: Right around the time they begin driving, many teenagers have their first exposure to alcohol or drugs. Driving while impaired is dangerous for anyone. But when paired with the inexperience that comes with teenage drivers, the risk of an accident increases dramatically. Alcohol and drug use dulls drivers' reaction times, impairs their judgment, and reduces inhibitions that can lead teens to take unnecessary risks.
Night driving: Whether they're commuting to a late-night job or returning home from a night out with friends, teens are often on the road when it's dark. Decreased visibility, tired drivers, and poor lighting make driving at night more dangerous for everyone on the roads, including teenagers.
Poor road conditions: Teenage drivers don't always know what to do if they find themselves in an area with poorly maintained or badly damaged roads. Trying to navigate around potholes, large puddles, work zones, and uneven pavement can be challenging for the most experienced drivers. These conditions can be even more difficult for a less experienced teen.
Bad weather: There's a big difference between driving in clear weather and driving in one of Alabama's soaking downpours. Motorists need to adapt their driving to match the weather conditions. But a new driver may not have the experience to know what to do and make a critical error in inclement weather.
Determining Fault in a Car Accident Involving a Teen in Alabama
Figuring out who is liable for injuries in an accident involving a teenage driver can be a challenge. The key issue will be determining which parties involved in the accident are guilty of negligence.
When examining a car accident, the negligent driver is the one who broke the rules of the road and whose actions caused your injuries. Therefore, identifying the negligent party depends on the unique facts of what led up to the crash.
If the teenage driver acted negligently — for example, by driving while intoxicated or running a red light — they can be held liable for any injuries they cause. However, they may not be the only responsible party. A 15-year-old can receive a learner's permit in Alabama, but they're required to have a parent, guardian, or other licensed driver aged 21 or older in the front seat beside them when driving. Not all families adhere to these requirements, and parents can be held liable for the actions of their children under certain circumstances.
Not all crashes involving teenage drivers are their fault. Regardless of who is ultimately at fault for your injuries, the important thing is to identify the at-fault parties and begin marshaling evidence to support your claim. One of the benefits of hiring a car accident lawyer is that they can start investigating your claim while you focus on healing, enabling you to get a jumpstart on your case.
Strong evidence is essential in Alabama car accident cases because of the state's pure contributory negligence standard for personal injury claims. Under this law, you can be denied compensation for your injuries if you are found to be even one percent responsible for causing the accident that injured you. With so much at stake, it's crucial to have an attorney on your side who will defend you against unfair claims of fault.
When to Contact a Montgomery Car Accident Attorney
The priority after any car accident is to get medical treatment for your injuries. However, you should speak to an attorney as soon as possible if you're considering legal action. Alabama's statute of limitations on personal injury claims gives you just two years from the date of your injury to file a lawsuit. If you miss this deadline, you could lose out on any chance of recovering compensation for your losses.
The teen driving accident attorneys at Stokes Stemle, LLC in Montgomery, AL are tough trial lawyers committed to obtaining maximum compensation for you. We'll launch a thorough investigation into the crash to determine who's liable for your injuries and what your case is worth. Then we'll open settlement negotiations with the responsible parties and their insurance companies, using the evidence we've accumulated to make a strong case for financial relief for you. If the insurance company isn't willing to make a fair payout, we won't hesitate to file a lawsuit if that's what it takes to reach a fair result for you.
Ready to get started? Call or contact us now for a free case review.