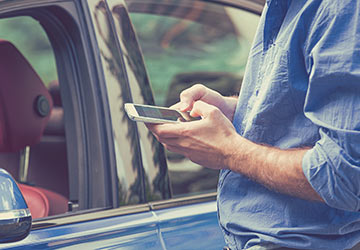 Rideshare services like Lyft and Uber have become immensely popular over the past few years. However, this popularity comes with a human cost. People have been injured as passengers in a rideshare vehicle. Pedestrians and other motorists have been hurt after being hit by a vehicle operated by a Lyft or Uber driver. You are not alone. An Uber/Lyft accident lawyer from Stokes Stemle, LLC is here to help.
Severe, even life-altering injuries from an Uber accident can pose challenges for the victim and the victim's family. These challenges can grow more difficult when Uber and Lyft refuse to accept responsibility for the victim's injuries. Those rideshare companies often try to shift the blame and legal liability elsewhere. Given the complexities of Uber accident claims, it is essential to obtain legal assistance from an experienced and skilled Uber/Lyft accident attorney.
If you or a loved one were injured in a car accident caused by an Uber or Lyft driver, contact the Montgomery, AL Uber/Lyft accident lawyers at Stokes Stemle, LLC. Learn more today about legal rights and options that you have.
Call us, reach out to us via live chat, or contact us by e-mail.
Who Is Responsible for Your Injuries After a Rideshare Accident in Alabama?
If you are injured in a car accident involving a rideshare vehicle, the rideshare company may offer some insurance coverage. That insurance can provide compensation for your injuries and damages, but you may quickly find the rideshare company disputing the amount of the insurance. The company may even argue that insurance is not available.
These factors may come into play in the rideshare company's insurance:
The driver is not logged into the rideshare app – Uber or Lyft won't accept responsibility for injuries caused by the driver. An injury victim must file a claim with the driver's personal or commercial auto insurance policy.
The driver is logged into the app but is waiting on a fare – Uber and Lyft provide liability coverage in the total amount of $50,000 per person/$100,000 per rideshare accident in addition to the driver's own personal or commercial insurance coverage
The driver is on the way to pick up a passenger – Uber and Lyft provide up to $1 million in liability coverage.
The driver has passengers in the vehicle – Uber or Lyft provide coverage up to $1 million in coverage.
There is no guarantee that the driver and/or the rideshare company will readily accept responsibility. That makes your legal representation of utter importance when you seek financial compensation for your injuries from an Uber or Lyft accident. Working with Uber accident attorneys at Stokes Stemle, LLC will take a lot of stress off your shoulders when dealing with insurance companies and large corporations like Uber.