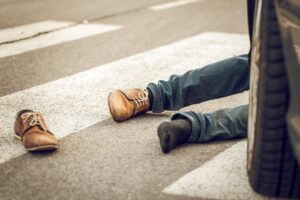 A pedestrian accident might leave you feeling frustrated, confused, and afraid. You are not alone. According to a recent report from the Governors Highway Safety Association (GHSA), pedestrian accident fatalities are at their highest in four decades. In Alabama, the pedestrian fatality rate is 2.5 per 100,000 people, higher than the national rate of 2.26. The Centers for Disease Control and Prevention (CDC) also reports that an estimated 104,000 emergency department visits nationwide in one recent year were for treatment of non-fatal pedestrian accident injuries.
If you suffered an injury in a pedestrian accident in Opelika, AL, you might need costly medical treatment while you're also out of work and watching your bills pile up. But if someone else was to blame for the accident, they could owe you compensation for the injuries and other losses they caused you. The pedestrian accident lawyers at Stokes Stemle, LLC are here to help.
Our experienced lawyers have helped many people in your position demand the financial relief they deserve. We understand how devastating a pedestrian accident can be and how it can impact your health, happiness, finances, and future. We will work tirelessly in pursuit of the maximum compensation because we know these resources are crucial to your recovery.
Don't wait another moment to get the help you need during this difficult time. Contact Stokes Stemle, LLC today for a free consultation with an Opelika pedestrian accident lawyer.

How to Get Compensation After Being Hit by a Car on a Crosswalk
If you were hit by a car, you might have several options for seeking compensation from the at-fault driver. You would likely start by filing an insurance claim against that driver, in which you could claim compensation for losses like:
Past, current, and future medical expenses to treat your injuries

Lost wages if your injuries prevent you from working

Loss of future earning capacity if your injuries result in a long-term disability

Pain and suffering

Emotional distress

Loss of quality of life
The claims process can be long and complicated. The insurance company might make an initial offer far from what you need to recover. You may need to hire an experienced lawyer to negotiate with the insurance company on your behalf to help you pursue a total, fair settlement amount.
If the insurer refuses to reach an appropriate settlement, your attorney could file a personal injury lawsuit against the at-fault driver. The threat of a case also gives the insurer a greater incentive to settle because going to trial can be expensive, unpredictable, and time-consuming. And if the at-fault driver or their insurer still refuses to pay, it helps to have an attorney with experience in a courtroom.
Proving Fault and Negligence
Many pedestrian accidents occur because drivers make errors. Some of these errors are considered negligence — meaning someone failed to exercise the level of care they owed another person, resulting in harm to that person. All motorists must obey traffic laws and drive carefully; failing to do so could be considered negligence. Examples of negligence in pedestrian accidents could include the following:
Speeding

– The 

GHSA report

 indicates speeding is a factor in approximately 20 percent of fatal pedestrian accidents. According to a study by the 

AAA Foundation

, the average risk of severe injury to a pedestrian increases exponentially with a vehicle's impact speed. Speeding could be considered negligence if it puts other road users at risk of injury or death.

Drunk driving

– According to the 

CDC

, alcohol contributed to 46 percent of fatal pedestrian crashes nationwide in one recent year. Driving while intoxicated is not only careless but also against the law.

Distracted driving kills thousands of people every year, including pedestrians. Drivers texting, making calls, eating, or otherwise distracted may fail to see pedestrians until it's too late to avoid a collision.
Regardless of the reason behind the accident that injured you, a pedestrian attorney can gather helpful evidence to prove the driver who hit you is at fault. This evidence could include the following:
Photos and video of the accident scene

Surveillance footage of the accident

Eyewitness testimony

Police officer's crash report

Expert testimony

Medical records

Phone or GPS records

Driving records

Toxicology test results
How Long Do I Have to File an Injury Claim After a Pedestrian Accident?
Under Alabama law, accident victims have two years from the date they were injured to file a personal injury lawsuit against the at-fault party. This deadline is critical, even if you choose not to sue. The ability to threaten a lawsuit can incentivize an insurance company to agree to a fair settlement. If you delay filing a claim, an insurer could try to drag out the process until the two-year deadline passes, giving you fewer options for seeking compensation. If you try to file a lawsuit after the two-year deadline, the court will almost surely dismiss your case.
Why Hire an Opelika Pedestrian Accident Lawyer?
Settlement negotiations with insurance companies can be complex, stressful, and discouraging. This is especially true if you are healing from painful injuries from a pedestrian accident. Fortunately, you can hire an Opelika pedestrian accident lawyer who can handle all the legal details while you focus on your recovery. An experienced attorney can help you by:
Investigating the pedestrian accident to identify the at-fault party
Gathering evidence to prove fault
Calculating your accident-related losses
Filing a claim with the at-fault party's insurance company
Negotiating a fair settlement
Filing a personal injury lawsuit against the at-fault party, if necessary
Representing you if your case goes to court
Contact Stokes Stemle, LLC After Being Hit by a Car in Opelika, AL
If you suffered an injury in a pedestrian accident, the lawyers at Stokes Stemle, LLC can advocate for your rights and help you seek compensation. Our crosswalk accident attorneys understand the physical, financial, and emotional pain accident can cause. But remember, you are not alone. Contact us after being hit by a car in Opelika for a free consultation.