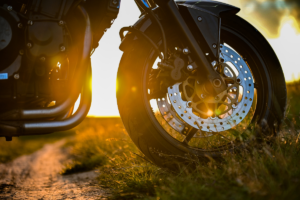 The aftermath of a motorcycle accident can leave you with painful injuries, expensive medical bills, stressful financial decisions, and significant emotional trauma. That all adds up to a heavy burden. But with a helping hand from the motorcycle accident lawyers at Stokes Stemle, LLC, it's one you don't have to carry alone.
We understand how a motorcycle accident can emotionally and financially impact your life. We're also familiar with the unfair anti-biker biases you might be facing as you pursue compensation. We have the experience and skills to stand up to insurance companies, fight negative stereotypes, and hold at-fault parties accountable for their actions. And because we work on contingency, you'll only pay us once we secure compensation for you.
If you've been injured in an accident that wasn't your fault, we're here to help. Contact the Opelika motorcycle injury attorneys at Stokes Stemle, LLC today for a free consultation.
How Motorcycle Safety Laws Could Affect Your Injury Claim
While all road users in Alabama must obey traffic laws and drive with care, motorcyclists have more laws specific to them. The following Alabama motorcycle safety laws could impact your injury claim from a motorcycle accident:
Licensing laws — Anyone operating a motorcycle or motor-driven cycle in Alabama must first secure a class M license by completing a knowledge and on-cycle skills test. In Alabama, an individual who is 16 and has a driver's license can operate a motorcycle or motor-driven cycle. Someone who is at least 14 can apply for a restricted license to operate a motor-driven cycle.
Helmet laws — Alabama has a universal helmet law, meaning anyone riding or operating a motorcycle must wear a helmet. The rule applies to operators and passengers of all ages.
Passenger laws — A motorcyclist cannot carry a passenger unless their motorcycle is designed for passengers and equipped with passenger foot pegs.
Equipment laws — All motorcycles on Alabama roads must have certain equipment. This includes front and rear brakes, turn signals, a horn, two mirrors, a headlight, a taillight, and a brake light.
Lane riding laws — Motorcyclists are entitled to full use of traffic lanes. However, a motorcyclist cannot pass a vehicle in the same lane or ride between lanes of traffic or rows of vehicles. They also cannot ride more than two abreast in a single lane.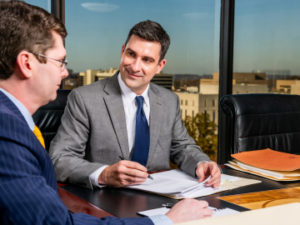 You should immediately contact a motorcycle accident attorney if you were in an accident and have been accused of breaking an Alabama motorcycle safety law. The at-fault motorist and their insurer may argue that you broke the law and cannot seek compensation. Alabama's negligence law can be particularly challenging for motorcyclists injured in accidents, as they are often stereotyped as dangerous and reckless. Insurance companies and other parties may use these stereotypes to deny liability.
Without an Opelika personal injury attorney to push back against these allegations, you might find yourself without the money you need for your injuries and other losses. An experienced attorney knows how to fight against these stereotypes and paint your case in the best possible light.
Most Common Injuries from Motorcycle Accidents in Opelika
Motorcyclists have little to protect them in wrecks with passenger cars and larger vehicles. Because of this, motorcycle accidents often result in severe, life-altering injuries or fatalities. Even an accident involving only a motorcycle can be catastrophic if the driver is thrown from the bike.
Common injuries from motorcycle accidents include:
Road rash
Lacerations
Concussions
Broken bones
Internal bleeding and organ damage
Crushed and amputated limbs
Paralysis
Liability in an Opelika Motorcycle Accident
To prove liability for your injuries and pursue compensation from the at-fault party, your lawyer will present various types of evidence, including the following:
Photos and videos of the accident scene
Statements from eyewitnesses who saw the accident
Testimony from medical experts and accident reconstruction experts
Police accident reports
Driving and cell phone records
It's crucial to hire an experienced motorcycle accident lawyer in Opelika who can gather evidence to prove the other party was entirely responsible for the accident that led to your injuries. Otherwise, you could lose out on the compensation you deserve.
What Compensation Is Available for Motorcycle Accident Injuries in Opelika, AL?
If you were hurt in a motorcycle accident that was not your fault, you could be entitled to compensation for your injuries and accident-related losses, including the following:
Current and future medical expenses related to treating your injuries, including hospital stays, doctor's visits, physical therapy, medications, and medical equipment
Incidental costs, such as mileage for traveling to medical appointments
Lost wages if you cannot work while recovering from your injuries
Loss of future earning capacity if your injuries are permanent or leave you with a disability that prevents you from working
In-home nursing care or assistance
Physical pain and suffering
Mental anguish and emotional distress
Disfigurement or scarring
Lost quality of life if you can no longer participate in hobbies or daily activities due to your injuries
How an Opelika Motorcycle Accident Attorney Can Help
If you were injured in a motorcycle accident, you could be entitled to compensation for your medical bills, lost wages, and other losses. The Opelika motorcycle accident attorneys with Stokes Stemle, LLC can help you pursue financial relief for your injuries and hold the at-fault party accountable. Our lawyers understand the legal challenges that motorcyclists face and will work tirelessly to get you the best outcome. Contact us today, or visit us in Opelika for a free consultation about your motorcycle injury claim.