Alabama Man Dies in Early Morning Car Crash Near Opelika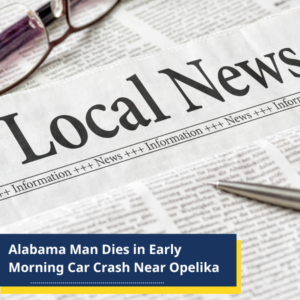 LEE COUNTY, AL – An Auburn man died from injuries suffered in a single-vehicle car accident in Lee County, Alabama.
Authorities with the Alabama Law Enforcement Agency reported that Victor A. Buchanan, 37, was critically injured when he drove off the road and crashed into a tree. The accident occurred around 12:30 AM on October 2, 2022, on the 4800 block of Lee Road 54 — approximately four miles south of Opelika.
Buchanan was not wearing a seatbelt at the time of the accident. He was transported to the East Alabama Medical Center, where he later died from his injuries. The ALEA Highway Patrol Division is investigating the crash.
Alabama Car Accident Statistics
The Alabama Department of Transportation's Drive Safe Alabama program has published key statistics about car accidents in the state. These stats include:
In a recent year, a traffic accident was reported on average every three minutes and 55 seconds.
That same year, an individual was killed in an Alabama traffic crash every nine hours and 20 minutes.
There were also a total of 932 individuals killed across 853 fatal motor vehicle accidents.
For each fatality in Alabama motor vehicle accidents, there were another 40 people who suffered injuries in crashes.
In accidents where an individual had a seat belt available, 58 percent of all fatalities were not wearing a seat belt or restraint at the time of the crash.
Of all fatal car crashes in Alabama that year, 58 percent occurred at night.
While 75 percent of motor vehicle accidents occurred in urban areas, 62 percent of motor vehicle accident fatalities happened in rural areas.
How a Car Accident Lawyer Can Help
After you have been in a car crash, let an Alabama car accident lawyer from Stokes Stemle, LLC help you pursue claims that can provide you with financial recovery for your losses from the accident.
Our personal injury law firm will go to work on your case by:
Quickly preserving evidence from the accident, including taking photos or videos of the accident scene itself, obtaining surveillance and dashcam footage, requesting police accident reports, and speaking to eyewitnesses
Identifying the drivers and other parties who may be liable for your injuries and determining whether they have insurance coverage
Documenting your ongoing and future anticipated expenses to determine how much compensation is needed to give you a full financial recovery
Preparing and filing your insurance and legal claims and advocating on your behalf with adjusters and defense lawyers
Aggressively negotiating for a fair and full settlement that covers your losses
Taking your case to court when litigation gives you the best chance at obtaining the results you deserve
Contact Our Opelika Car Accident Attorneys to Represent You
If you were injured or lost a loved one in a car crash caused by someone else's negligence, you could demand accountability and compensation from the at-fault party. Contact Stokes Stemle, LLC to speak with an experienced Alabama car crash attorney about your case for free.