BIRMINGHAM: Two Police Officers Collide With Another Car During Police Chase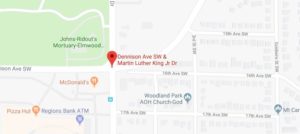 Two Police Officers Collide With Another Vehicle During Police Chase on MLK Drive.
On Friday, May 10, 2019, two police officers were in pursuit of a suspected stolen vehicle when they collided with another vehicle at the intersection of MLK Drive and Dennison Avenue. As a result of the high speed collision the police cruiser burst in to flames, everyone involved had to seek emergency medical treatment and the suspected stolen vehicle got away.
Liability Involving Police Officers
The officers involved in the collision could be held liable for the injuries sustained by the motorist they hit in the intersection of MLK and Dennison depending on the specific facts and circumstances surrounding the crash.
Alabama Code § 32-5A-7 Authorized Emergency Vehicles, provides that emergency vehicle drivers may ignore certain traffic signals, rules, and speed limits so long as they are responding to an emergency call or in pursuit of a criminal suspect. This has the affect of limiting their liability for any injuries they may cause while responding to an emergency. However, a police officer must be responding to an emergency and have their lights/sirens on at the time of the collision to avoid any potential liability.
So, if the officers were speeding or running traffic lights while involved in a high speed chase, but did not have their lights or sirens on, then they could be held liable for the other motorist's personal injuries.
We here at Stokes Stemle – Personal Injury Attorneys, extend our thoughts and prayers to the unidentified motorist and police officers injured as a result of the police chase on MLK Drive.  Police officers must exercise caution as they are going about their duties,  even while pursuing a suspected stolen vehicle. It is our sincere hope that this incident is investigated thoroughly and those responsible for the collision are brought to justice.
Stokes Stemle, LLC Can Help You Recover
Have you or someone that you care about been involved in an accident with a police officer? If so, there are laws designed to protect your rights. Do not give up! Our team of Montgomery accident attorneys are here to answer any questions that you may have. Whether you just have questions about your legal options or need more information about an accident, we are here for you. You can reach out to us anytime at (334) 316-4123 and speak to an attorney for your free consultation.