Car Accident While Changing Lanes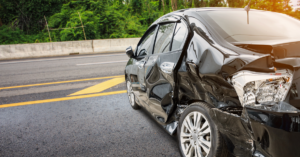 All motorists have a duty to exercise care and caution when driving, and this is particularly important when changing lanes. If a driver fails to notice other vehicles or gauge their speed adequately, they could easily cause a devastating crash. 
If you have been injured because another driver failed to change lanes safely, you could be owed significant compensation for your medical bills, lost wages, repairs to your vehicle, and more. Here, we'll discuss how lane change accidents happen and how you could seek answers and justice after a crash caused by someone else's negligence.
Who Is at Fault in an Accident When Changing Lanes?
Drivers are responsible for obeying all of the rules of the road to protect themselves and others. If a driver failed to follow Alabama traffic laws while changing lanes, they could be held accountable for your injuries and other losses.
In some instances, however, the driver who was changing lanes might only be partially to blame. If another person was also negligent in some way, they could be liable as well. Distracted driving, aggressive driving, not having your mirrors properly adjusted, or even driving too slowly could significantly increase the risk of an accident.
Unsafe Lane Change Accident Statistics
Failing to change lanes safely is one of the main causes of car accidents in Alabama and across the United States. In one recent year, improper lane change or usage was the fourth leading cause of all fatal crashes in Alabama, causing a total of 14,276 crashes, of which 70 were fatal.
Unsafe Lane Change Laws and Violations
Alabama traffic laws outline specific rules and restrictions drivers must follow when changing lanes or merging. These include:
Drivers must stay within a single lane and may only change lanes after making sure they can do so safely.
A driver may only change lanes or make a turn if they can do so safely and must use the appropriate signal to indicate their intention to change lanes or turn.
A driver must pass another vehicle on the left at a safe distance.
When passing another vehicle, a driver may only move into another lane if there are no oncoming vehicles, and they can return to their original lane at a distance of more than 200 feet from oncoming vehicles.
Drivers being overtaken should not increase their speed to prevent another vehicle from passing.
Injuries Caused by Unsafe Lane Change Accidents
Carelessness or inattention while changing lanes can lead to severe injury accidents. Some common injuries caused by lane change accidents include:
Back, spine, and spinal cord injuries
Internal organ damage and bleeding
Broken bones and fractures
Cuts and lacerations
Burns
Some of these injuries might require emergency medical treatment, and many could result in long-term consequences, such as paralysis, scarring, disfigurement, or other disabling conditions.
How Can the Personal Injury Attorneys at Stokes Stemle Help?
Here at Stokes Stemle, LLC, we care about your physical, emotional, and financial recovery after a crash. We know what you're going through, and we'll be ready to stand up and fight for the fair compensation you need and deserve. Our experienced Montgomery injury lawyers will be ready to discuss the specifics of your case when you call us or reach out to us online for a free case evaluation.