Distracted Driving Laws in Alabama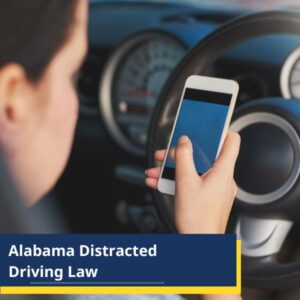 According to the National Highway Traffic Safety Administration (NHTSA), distracted driving killed over 3,000 people and injured about 325,000 more in one recent year. In response to such staggering statistics, Alabama passed a distracted driving law in 2012. This law banned texting while driving except in certain circumstances. To learn more about the laws, their meaning, who they apply to, and exceptions to the rule, contact Stokes Stemle, LLC today.
Alabama Laws on Distracted Driving
Under Alabama's law on texting and driving, a person cannot drive on a public roadway while using a wireless telecommunication device to write, send, or read a text-based communication.
A "wireless telecommunication device" includes several types of devices:
Handheld cell phone
Text-messaging device
Personal digital assistant
Laptops or tablets
Similar wireless, portable devices
It is important to note that this does not include voice-operated texting devices, which are common in newer vehicles.
A "text-based communication" includes:
Text message
Instant message
E-mail
This does not include phone numbers or names stored in a wireless cell phone. Drivers can still place and receive phone calls while driving.
Alabama's Distracted Driving Laws for Minors
While adults can still use their wireless cell phones for other purposes, such as placing or receiving phone calls, drivers under 18 with a Stage II license cannot use a cell phone at all while driving.
Teenagers are particularly at risk of getting into an accident due to distracted driving. According to NHTSA research, teen drivers who dial a phone number are six times more likely to get in an accident. Texting teen drivers are 23 times more likely to crash.
Penalties for Texting and Driving in Alabama
The penalty for violating Alabama's distracted driving laws includes the following fines and two demerit points on the driver's record:
A $25 fine for the first violation
A $50 fine for the second violation
A $75 fine for the third or subsequent violation
Exceptions to Alabama's Distracted Driving Laws
There are exceptions to Alabama's distracted driving laws, including:
Emergencies – Drivers can still use their cell phones to obtain emergency services. For example, drivers can call the police, fire department, or a health care provider while driving.
When pulled over – Drivers can use their cell phones when pulled over and parked on the shoulder of a roadway.
For directions – Drivers can use their cell phones for pre-programmed directions. However, typing a destination into an app such as Google Maps or Waze is still against the law.
Talk to Our Experienced Distracted Driving Accident Attorneys in Montgomery, AL Today
Despite Alabama's laws on distracted driving and the well-known risks of texting while driving, many Alabama drivers continue to text and drive. This causes preventable accidents every day. If a distracted driver injured you, contact the Montgomery car accident attorneys at Stokes Stemle, LLC to discuss your legal options during a free consultation.