Enterprise: Woman Killed in Head-on Crash on Al Hwy 167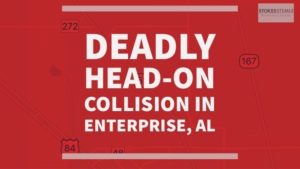 One Person Dead After Head-on Collision in Enterprise, AL
A head-on collision on Alabama Highway 167 in Enterprise leaves one woman dead and another seriously injured.
The Enterprise Police Department responded to the collision around 4 a.m. on January 29, 2019 between Salem Road and County Road 158. Ellen Shipman, from Daleville, Alabama, was airlifted to a local hospital where she later succumbed to her injuries and passed away. The other person involved in the car accident was treated for injuries.
We at Stokes Stemle – Personal Injury Attorneys extend our deepest sympathies to the family of Ellen Shipman as t hey go through this difficult time.
Liability In Head-on Collisions
According to a number of studies, head-on collisions are widely considered to be one of the most deadly types of car accidents. While head-on collisions account for only 2% of car accidents, they make up nearly 10% of all traffic fatalities. Those that survive are often left with serious such as broken bones, traumatic brain injuries or spinal cord injuries. The medical expenses to treat these injuries can quickly mount up and can add even more stress to an already bad situation.
When a head-on collision results in death, the family of the victim is able to recover damages through a Wrongful Death Claim.
If a loved one has passed away due to a car accident it is important to speak to a Wrongful Death Attorney who can investigate the collision and advise you of your rights.
Liability in Head-On Collisions
There are a number of factors that can lead to a tragic accident like the one that occurred in Enterprise, Alabama. Many times a driver crossing a double yellow line results in a head-on collision.
The Alabama Code Title 32. Motor Vehicles and Traffic § 32-5A-84 provides that:
No vehicle shall be driven to the left side of the center of the roadway in overtaking and passing another vehicle proceeding in the same direction unless such left side is clearly visible and is free of oncoming traffic for a sufficient distance ahead to permit such overtaking and passing to be completely made without interfering with the operation of any vehicle approaching from the opposite direction or any vehicle overtaken.  In every event the overtaking vehicle must return to an authorized lane of travel as soon as practicable and in the event the passing movement involves the use of a lane authorized for vehicles approaching from the opposite direction, before coming within 200 feet of any approaching vehicle.
When a driver violates this law and causes a car accident, Alabama Law presumes they were negligent and at-fault.This is known as "Negligence Per Se" meaning that the party-at-fault violated some law or ordinance that was enacted for the protection of the injured party.
Getting Help After a Car Accident
If you or someone that you know has been injured in a Head-on Car Accident you may be entitled to compensation for your injuries. Call Stokes Stemle now at 334.316.4123 to speak to one of our car accident attorneys in Montgomery about your legal rights or click the link to chat live with a representative and schedule your free initial consultation. We are here to help you through out the claims process.
There is no fee unless we make a recovery for you.