Sleepy Truck Driver Awarded 80 Million for Falling Asleep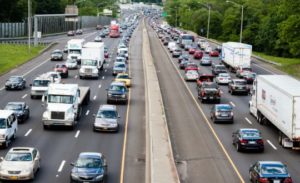 Truck Driver Injured After Being Forced To Alter Log Books
Truck driver, Lauro Lozano, Jr., was awarded $80 Million Dollars by a jury in Texas for injuries he received in a car accident after being forced by his employers to work long hours and alter his log books.
On May 6, 2015 Lozano was involved in a serious truck accident collision after falling asleep at the wheel and colliding with another eighteen wheeler while traveling on Interstate 59 outside Birmingham, Alabama. According to the lawsuit, filed in Hidalgo County, Texas, Lozano returned to his home in San Antonio, around 3 p.m. on May 3, after completing another long haul when Jorge Marin, the owner of JNM Express, called him and demanded he returns to work at 5 a.m. the next day to deliver another shipment to Maryland. Mr. Lozano told his boss at that time that he was too tired to complete another trip and that was required by law to rest for at least 34 hours before he could lawfully carry another load. It was then that Marin instructed him to alter his log book to make it appear as though he had taken the mandated 34 hours rest period.
It was while Lozano was on his way to Maryland that the collision occurred resulting in several serious injuries including a crushed pelvis, severely fractured left foot, numerous broken ribs, and traumatic mesentric hematoma.
At trial, it was revealed that this was not the first time a truck driver for the company was asked to falsify log books and violate hours of service requirements under the Federal Motor Carrier Safety Regulations. It was these intentional violations and blatant lack of concern for the safety of their drivers and those that share the road with them that lead to the large verdict. Mr. Lozano was awarded $5 Million Dollars to compensate him for his injuries and an additional $75 Million Dollars in Punitive Damages against Marin's Company.
Log Books: The Little Book of Lies
The Federal Motor Carrier Safety Regulations (FMCSR) were enacted by the United States Department of Transportation to promote safety in the trucking industry and prevent commercial motor vehicle related injuries and fatalities. Lozano and his employer's knowingly violated several Federal Laws.
Drivers are required to maintain a record of their duty status in a Log Book under FMCSR §395.8 and §395.15. These Log Books help ensure operators are complying with the FMCSR. The log must cover every hour of every day and contain the total miles they have driven on any day, the number of hours they have been on or off duty and much more. Government Inspectors may check a driver's log at any time. If a driver's logs are not accurate or up to date the truck driver may both be fined and/or suspended from driving for a period of time.
It is not uncommon for these log books to be fudged and inaccurate as drivers are often paid per mile, so the more they are able to drive, the more money they can make. In turn the carriers may maximize their profits and provide better results to their customers by their drivers not following the hours of service regulations they are required to follow.
If you are involved in an accident with an eighteen wheeler or other commercial carrying vehicles it is important that you have an attorney that is familiar with FMCSR. A knowledgeable truck accident attorney will immediately move to obtain the driver's log books and download the data from the vehicle to determine whether the truck driver was complying with  §395 of the FMCSR which provides the Hours of Service requirements.
Getting Help After a Trucking Accident
If you or someone that you love has been involved in an accident with a commercial trucking vehicle you may have legal recourse. Our team of Montgomery commercial truck accident lawyers is here to answer any questions that you may have about your rights. We are committed to making sure that truck accident victims get the justice that they need and that truck drivers and the companies they work for are complying with the laws enacted to make our roads safer. Whether you need a free police report about a specific incident or have questions about your rights we are here for you. You can reach out to us anytime at (334) 316-4123.