Teen Asleep At Wheel In Collision That Killed Rod Bramblett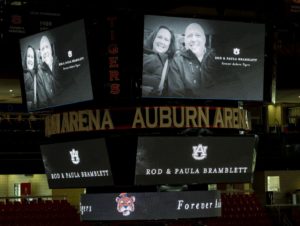 New Reports Suggest Teen was Asleep at the Wheel in Fatal Collision with Rod Bramblett
New Reports suggest that the teenage driver of the Jeep Grand Cherokee involved in the Fatal Collision with Rod and Paula Bramblett fell asleep at the wheel. Investigators have ruled out that alcohol or cell phone use played a part in the collision though the toxicology report is still pending.
Driver Fatigue contributed to 2,632 collisions in Alabama last year with 35 of those incidents resulting in at least one fatality. It is extremely rare for a rear-end collision to result in a fatality so investigators believe that the at-fault party must have been traveling at a high rate of speed.
It is rumored that the teenage driver has close ties to the Auburn community and local law enforcement agencies. Captain Lorenza Dorsey refuses to comment on the teen driver relationships stating only that "this case is being investigated like any other case."
The decision to bring criminal charges for the death of Rod and Paula Bramblett will be up to the Lee County District Attorney. At this time no charges have been brought against the teenage driver.