Woman Killed in Midnight Boat Crash on Alabama River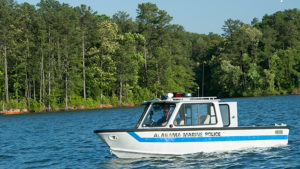 Wetumpka Woman Killed in Midnight Boat Crash on Alabama River
Several Alabama news outlets are reporting that Krista Danielle Elliott died following a boat crash on the Alabama River near Wetumpka, Alabama around midnight on July 13, 2019. Our thoughts and prayers go out to her friends and family during this difficult time.
The Alabama Law Enforcement Agency is still investigating the incident but has released information advising that she was the only passenger on the boat being operated by another individual when she was hit by an overhanging tree. There were no other injuries reported.
Liability in Boating Accidents
According to the United States Coast Guard there were 4,291 boating accidents reported in 2017 which resulted in 658 deaths and 2,629 injuries.
The Top 10 Causes of Boating accidents according to the USCG are:
Operator Inattention
Improper Lookout
Operator Inexperience
Machinery Failure
Alcohol
Excessive Speed
Navigation Rules Violation
Weather
Hazardous Waters
Force of Wave/Wake
Any person that is injured in a boating accident may have personal injury claim. The Alabama Code provides certain guidelines and restrictions for operating a boat on Alabama waterways including who may drive a boat and how they should operate the boat. It is against the law in Alabama to "operate a vessel in a reckless manner" and that any person operating a boat in Alabama waters shall do so in a reasonable and prudent manner, so as not to endanger the life, limb, or property of another person."
Protecting Yourself on a Boat
It is essential to follow the rules and regulations provided Alabama Law Enforcement Agency in the Official Boating Handbook. Make sure that if you are a passenger on a boat that the operator aware and up to date on these guidelines. Never place yourself in a situation where the operator of a boat is under the influence of drugs and alcohol as this poses an unnecessary risk to not only yourself but for other enjoying their summer on the water.
Getting Help for Injuries From a Boating Accident
If you or someone you know has been injured as a result of a boating accident the personal injury attorneys at Stokes Stemle are here to help. You may be entitled to financial compensation. Our boating accident lawyers are here to answer any questions that you may have and assist you through this difficult process.
Call us today at 334.316.4123 to speak to an attorney today and set up your free initial consultation.