5 Things Not To Say To An Insurance Company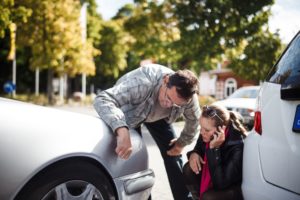 5 Things Not To Say To An Insurance Company Following An Alabama Car Accident
After a car accident the insurance carrier for the person responsible for the accident will have one of their employees reach out to you asking for a moment of your time so that they can get a few details regarding the collision and help get you paid. They will seem nice and friendly and eager to help. That Is Not The Case. This person has been trained by the insurance company to represent their employer's interests, Not Yours.
Anything You Say Can And Will Be Used Against You
Every word you say could have negative affects on the value of your claim and getting you properly compensated for your injuries and the value of your car. Even the most innocent of statements can be turned or twisted against you so that they can save their company and client money.
It is important to be prepared when speaking with the at-fault party's insurance carrier following a car accident.
Do Not Admit Any Fault Concerning Car Accident.
Alabama is a contributory negligent state. This means if you are even considered to be 1% at fault the insurance carrier can deny you any money for your injuries.
Do Not Say That You Were Not Injured Or Your Injuries Were Minor
You are not a medical professional. It is best to let the medical records speak to the level of your injuries. At Stokes Stemle, LLC, we ask our clients to not make any comment as to the level or intensity of their pain and injuries. Even if you believe the injury is minor and pain is tolerable you could be lessening the value of your claim as the insurance companies will latch on these brief statements when it comes time to compensate you for pain and suffering.
Do Not Provide A Recorded Statement
Do not agree to a recorded statement without first speaking to an attorney with Stokes Stemle, LLC. Again, Anything You Say Can And Will Be Used Against You. If they are wanting a recorded statement this usually means they are going to try to deny your claim for some reason and put you at fault for the collision.
Do Not Sign A Release
Many times insurance companies will tell you that they can not provide you a rental car or fix your property damage to your car without you first signing a release. Remember, a RELEASE will release the at-fault party from liability and gives up your right to sue the person at fault for you injuries. Do not sign a release without first speaking to an attorney to make sure you are properly compensated and that you are not giving up any of your rights to compensation.
Do Not Tell The Insurance Company You Do Not Have An Attorney
When dealing with insurance companies you SHOULD have a lawyer assisting you with your claim and advising you every step of the way. Insurance Companies love to hear that the you are not represented as this makes you more vulnerable to their practices that work to de value your claim.
Contact A Montgomery Car Accident Lawyer Following Your Wreck
If you or somebody you know was involved in a car accident, the personal injury attorneys at Stokes Stemle, LLC are here to help. Please call us today at 334.316.4123 or click the link below to schedule your free consultation with one of our experienced car accident personal injury attorneys.
There are no obligations or costs associated with your free consultation. We will only charge a fee if we make a recovery for you!
If you or a loved one has been injured in an auto accident, don't let the insurance companies take advantage of you. Contact Stokes Stemle, LLC at 334.316.4123 today for your free consultation and case evaluation.