Alabama Personal Injury Law Firm Reveals a New Site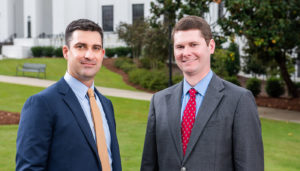 Stokes Stemle, LLC, an Alabama personal injury firm, has launched a new, updated website to better serve people who have been harmed by negligent individuals and companies.
With this new website, it's easier than ever for people in Alabama to find the information they need when they've been injured in an accident that was someone else's fault. Users can find detailed information about Stokes Stemle, LLC's attorneys and the types of cases we handle.
Potential clients can also use this comprehensive site to learn how much their personal injury case might be worth, read testimonials from the firm's past clients, and easily set up a free consultation with an experienced personal injury lawyer.
A Little History of Our Personal Injury Law Firm
At Stokes Stemle, LLC, we put you first. Our founding partners, Jonathan H. Stokes and Joshua Stemle are dedicated to fighting for people in Montgomery and throughout Alabama who feel powerless after they've been injured because of someone else's negligence.
Jonathan and Joshua were both born in Alabama, and both graduated from Auburn University. While Joshua was at Auburn, he interned for U.S. Representative Mike Rogers and former U.S. Senator Jeff Sessions. Joshua then went on to get his law degree from Thomas Goode Jones School of Law in Montgomery. Jonathan also interned for former U.S. Senator Jeff Sessions before obtaining his law degree from Samford University's Cumberland School of Law in Birmingham.
Before launching Stokes Stemle, LLC, our team worked at large firms, where we handled cases such as significant class-action settlements and complex defense arguments for Fortune 500 companies. After gaining this valuable experience at well-established firms, we knew that we wanted to move into an area where we could better serve individual victims instead of large corporations.
As natives of Alabama, Jonathan, and Joshua, established the practice to help give people in Montgomery, Dothan, Auburn, and across the River Region and Wiregrass area the personalized attention they deserve after accidents. We built our practice out of a desire to help individuals get on the road to recovery.
At our firm, we take pride in focusing exclusively on personal injury cases, and we'll do everything we can to help clients seek the justice and compensation they deserve. We stand out because we genuinely care, and we give clients direct access to our experienced legal team.
Jonathan and Joshua go out of their way to help clients. We not only handle the complex details of each client's legal case, but we also help them find important resources, such as doctors and treatment facilities. Our team also does everything we can to make sure we're available for clients whenever they need us.
As demonstrated by our five-star reviews and glowing testimonials from past clients, the knowledgeable and compassionate attorneys at our firm go above and beyond to help personal injury victims.
What Kind of Personal Injury Cases We Handle
At Stokes Stemle, LLC, we have the skills and resources to take on insurance giants, tackle even the toughest cases, and help individuals pursue maximum compensation for their injuries. Some of the types of cases we handle include:
Car accidents. Our dedicated legal team can handle all aspects of your car accident claim, from gathering evidence to fighting for you in court, if needed, so you can focus on recovering from your injuries.
Slip-and-fall accidents. These claims are common but incredibly complex. We can help you build the strong case you need to fight for your rights after you're injured in a slip-and-fall accident.
Wrongful death. If a family member is killed because of someone else's negligence, no amount of money can bring them back. However, our compassionate legal team can help fight for the compensation you need to help cover some of the damages caused by this traumatic event.
Truck accidents. Even though these accidents often cause some of the most life-threatening injuries, it can seem impossible to get fair compensation after a truck accident. Several different parties might be liable in a truck accident, and oftentimes, each will try to pass the blame. Our attorneys can help determine who was responsible for the trucking accident and fight for the compensation you're owed.
Sexual abuse. We're here to help victims of sexual abuse and assault file civil cases against their perpetrators. Through these claims, victims often recover compensation for some of the damages they've suffered, such as emotional and psychological harm.
Spinal cord and traumatic brain injury. These life-altering injuries can permanently change the life of not only an accident victim, but also their families and everyone around them. Our experienced legal team can fight to seek the compensation you deserve to cover the life-long complications of these injuries.
Motorcycle accidents. Motorcyclists often suffer severe injuries in road accidents because they are much more vulnerable than other vehicles on the road. However, it's typically challenging for these victims to get fair compensation after accidents because of bias against motorcycle riders. Stokes Stemle, LLC is here to stand up for motorcycle accident victims and help them fight for the compensation they're owed.
How to Get in Touch with Us
At Stokes Stemle, LLC, our experienced legal team is available 24/7 to serve clients and help them get on the road to recovery. To set up a free initial consultation, call us today or contact us online.
We proudly serve personal injury victims across the River Region, with offices conveniently located in Auburn, Dothan, and Montgomery. Contact the office closest to you at:
927 Lakeview Drive
Auburn, AL 36830
Tel: (334) 316-4123
810 Hedstrom Drive
Suite 1
Dothan, AL 36301
Tel: (334) 316-4123
445 Dexter Avenue
Suite 4050
Montgomery, AL 36104
Tel: (334) 316-4123
For additional information about Stokes Stemle, LLC, or to set up a free consultation with our personal injury legal team, you can also reach us through social media at: