Why You Should Hire a Truck Accident Lawyer After a Semi-Truck Accident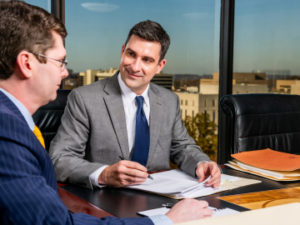 According to the Alabama Department of Transportation, thousands of Alabama residents are injured and dozens are killed every year as a result of large truck accidents. Many truck accident victims are forced to deal with devastating and debilitating injuries, unexpected medical expenses, damaged vehicles, and other serious consequences after a truck accident.
Just because accidents happen frequently doesn't mean that they are unavoidable. If a truck driver, trucking company, or another entity's negligence cause a crash that harms others, they can and should be held accountable. An experienced truck accident lawyer like those at Stokes Stemle, LLC know this, and we are ready stand up for you. We will demand justice by filing a claim against the responsible parties and pursuing maximum compensation for your injuries.
Give us a call or contact us online to learn more about how an experienced truck accident injury attorney can help you.
Trucking Insurance Policies Are Different
In a typical car accident case involving two passenger vehicles, the injured party will often seek a fair settlement from the at-fault party's insurance provider.
If you've been injured in a crash involving a commercial vehicle, however, multiple liable parties and insurance policies may come into play.
The company that hired the truck driver will likely have liability insurance. The truck driver may have their own insurance policy as well. Many commercial vehicles are covered by vehicle-specific insurance policies, and the cargo they haul may be insured, too.
Filing a claim with one insurance provider can be complicated enough, but dealing with multiple insurance companies at once can be challenging if you are not familiar with the process. The insurance adjusters' role is to protect their company's bottom line. They may do this by minimizing your claim or denying you compensation entirely. Without the help of a truck injury lawyer, you may be stuck in a bureaucratic nightmare with mountains of paperwork from multiple claims. This can be extremely frustrating when you are trying to recover from your truck accident injuries.
Commercial truck insurance policies also tend to have higher policy limits to cover the devastating damage and severe injuries that often occur when trucks are involved in accidents. Insurers have even more incentive to minimize or deny claims when large payouts are potentially involved. This is not a battle you want to fight on your own. A lawyer with extensive experience handling truck accident claims will have the knowledge, skills, and resources necessary to prove your claims.
Truck Accidents Usually Cause More Damage
When a large commercial truck collides with a passenger vehicle, the resulting injuries and property damage can be devastating. While the truck driver may walk away from the crash unscathed, all-too-often, the occupants in the smaller vehicle suffer severe, catastrophic, or fatal injuries.
Unfortunately, the truck driver, trucking company, and their insurers may fight back against your injury claim. They may deny causing the accident, delay dealing with your claim, or might even try to blame you for the crash to avoid paying what you're owed.
With so much on the line, it's vital to hire a dedicated truck accident attorney to represent you and your interests. These entities will have truck driver accident lawyers on their side who do nothing but defend against liability claims, so you should have qualified counsel looking out for your interests and fighting for you.
Multiple Parties May Share Liability for Truck Accidents
Some truck accidents involve truck drivers who are owner-operators, meaning they are self-employed drivers who own their own trucks. If an owner-operator causes a truck accident, they alone are most likely liable for accident-related damages.
However, many drivers work for companies that own multiple vehicles or even large fleets of trucks. There are also other entities like third-party maintenance companies, cargo loading companies, and even the company that owns the cargo that could bear responsibility after a crash.
Proving fault in any accident claim can be challenging but identifying all liable parties after a truck accident will usually require the help of a skilled truck accident lawyer.
A Truck Accident Lawyer Can Develop an Appropriate Legal Strategy
A knowledgeable truck accident attorney will be familiar with the unique challenges these cases present and will develop appropriate legal strategies to increase your case's chance of success.
When you hire Stokes Stemle, LLC to represent you, we can establish a strong legal strategy to give you your best chance at success by:
Gathering evidence of liability from accident reports, driver logbooks, electronic GPS, cell phone records, trucking company maintenance records, witness statements, and background investigations
Estimating the value of a fair truck accident settlement by accounting for all of your accident-related losses, including your physical and mental pain and suffering
Working with medical professionals to evaluate your injuries and estimate the cost of future treatment
Communicating with insurance providers on your behalf and handling settlement negotiations from start to finish
Contact a Truck Accident Lawyer Today
If you've been hurt in a collision with an 18-wheeler, don't trust your injury claim to just any lawyer. These cases often involve severe injuries, multiple liable parties, and entities who will fight aggressively to protect their bottom line. You deserve the maximum compensation possible for your claim to ensure that you can pick up the pieces and move on with your life. With an experienced truck accident attorney on your side, you can rest easier knowing that your case is in good hands.
Turn to the team at Stokes Stemle, LLC, and let us get you the compensation you deserve. Call us or reach out to us online for a free case evaluation today.